Most of us have heard about many wonderful large charities and organizations in the area, such as the Salvation Army and the Oregon Food Bank, but there are also many smaller nonprofits in Portland creating a difference in an amazing way. The Piano Santa Foundation makes a huge impact in the musical lives of children in Portland. Piano Santa started up in 1994 and has given continuous piano scholarships every year since. A piano scholarship helps students receive in-home use of a piano, piano maintenance, performance opportunities, and access to an expansive music library.
The Grand Piano scholarship, which is awarded every year in June, provides one student with the use of grand piano in his or her home for two years. If you're looking for a fun and unique volunteering experience, the foundation has some opportunities. Volunteers can serve on the scholarship committee as well as at the library, which contains more than 1,500 music books. Events and administrative support are additional avenues where you can help out. The next Piano Santa event is the Holiday Recital where students perform a variety of pieces on December 1st at the Central Lutheran Church in NE Portland.
For more information about the Piano Santa Foundation, check out pianosanta.org.
Check out this collection of bridge illustrations by Portland creative April Black as part of her 'Make Something Everyday' series. It even includes the under-construction Caruthers light-rail bridge.
Hat tip to Stumptown Magazine.
While the homes sales market is stuck in a low gear, the Portland rental market has been in overdrive, with rents rising and vacancies shrinking.
A recent article in Portland's local daily newspaper highlights the increased demand for apartment rentals, as well as the rising rent rolls. According to local property managers, average rents in the Portland area have risen 8% in the past year. The average 2-bedroom, 1-bath apartment in the Portland metro area runs $743 a month, although there is a wide range of pricing from area to area (see chart below).
While most property managers plan on an 8% vacancy rate (average 1 month per year), recent vacancies are below 4% (even lower in the city core). And because new apartment development slowed during the recent housing downturn, new inventory will be slim until developers find the wherewithal to build again — meaning rents aren't going down anytime soon.
Are these reasons to consider a purchase instead? Not if your job situation is tenuous, or you're new to the area, or the responsibilities of owning aren't your thing. But at some point, the trade-offs may be worth a second look.
Portland Apartment Rental Market
Data source: Metro Multifamily Housing Association, via The Oregonian Business section. Full coverage at Oregonlive.com.
As a Realtor, it's not uncommon to field questions about which neighborhoods have low crime, good schools, 'like-minded' neighbors (either politically or demographically), and other personal preferences.
Unfortunately, Fair Housing laws limit our ability to guide or 'steer' people into specific neighborhoods based on our opinion of  a neighborhood's racial complexion, family-friendliness, safety, and other social factors. Often, we just point them to the raw data, where available, and let them come to their own conclusion.
Over the years, sites like PortlandMaps, Walkscore, and others have made this process a lot easier, through geomapping and other visualizations. For example, I love M Realty's Walkscore heatmap view for searching in highly walkable neighborhoods.
But what if someone wants to know where Portland's badass neighborhoods are?
I have little to no hipster in me, so I wouldn't even know where to start. But a couple local dudes apparently do and have created the city's first bad-assness index.
The factors:
Public transportation availablity. Good.
Property values. Yes.
Bike access. Sure.
Beer availability. Still with you.
Coffee locations. Makes sense.
Food cart proximity. I suppose…
Pinball availability…um.
Strip clubs…no comment.
Pull together the data, geocode it, and turn it into a heatmap, and voila — Portland's badass neighborhoods (PDF).
Areas of town get ratings from from 'Hella Badass' to "Flannelville" to 'Vancouverish' at the low end (sorry my Clark Country friends). The Boise neighbhorhood gets top prize, followed closely by Goose Hollow and Oldtown/Chinatown. Your mileage may vary, as they say.
Shout out to Rick Turoczy at the Silicon Florist for the find. From Dillon Mahmoudi on Vimeo.
Perhaps you've reconsidered selling your home due to the recent market dynamics. Perhaps you've just decided that staying put is preferable to the anguish and stress of selling, buying and moving.
But perhaps the ol' homestead is getting a little threadbare, or the kidlets are abandoning the nest. Maybe you've found a little bank-owned fixer. Now what?
You need some inspiration.
The Professional Remodelers Organization of Portland may provide just what you need on March 12 and 13, 2011 during their Portland Tour of Remodeled Homes. The tour offers an opportunity to roll through 15 actual remodels, meet the contractors, and get ideas about your own domicile. Tickets are $17.50 and you can spread your time over both Saturday and Sunday on those tickets.
Here, Steve Stolze of SLS Remodel and Construction talks about his redo of a typical '80′s home: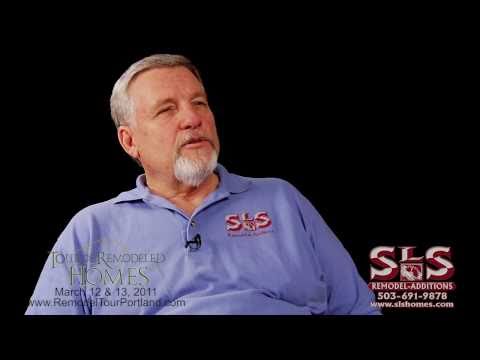 The show is produced by the Homebuilder Association of Metropolitan Portland and tickets can be purchased here.
NPR shared an interesting story outlining the dichotomy of why people are continuing to migrate to Portland despite a lack of employment opportunities and racial diversity.
In short, it noted the typical stereotypical responses — outdoor life, food, music, beer, biking — you know, lifestyle stuff.
For jobs? Not so much.
From the NPR transcript:
Oregon economist Christian Kaylor says he can think of only one explanation for the migration into Portland: the quality of life.

Kaylor says wages there are sometimes 20 percent lower than in Seattle or San Francisco. But people keep coming. In fact, Portland's appeal is part of why the city's unemployment rate tends to be about a point higher than the national average.

"In recessions, Portland tends to see population growth, even as we lose jobs," Kaylor says. "So one of the reasons we have that higher unemployment rate is because people do continue to move here even as jobs disappear."
Foodcarts, rock bands, and brewpubs aside, perhaps these recent additions will someday find reasonable employment options and eventually fuel the housing market in years to come. I have worked with several that fit this mold, and I hope their careers can continue to support both their lifestyle and housing choices.
Over the years, I've posted links to many reviews of the Portland lifestyle…most penned by a fawning NY Times writer wandering about town for a long weekend or so.
This gem, Twice Charmed by Portland Oregon, however, was written by local author Katherine Dunn (Geek Love) for the Smithsonian Magazine. Dunn moved here as a teen and re-emigrated to Portland later in her life.
Yes, it's a little sentimental, but saccharine-free.
Portland's population has mush­roomed since I was a kid. The perpetual tug of war between preserving and modernizing saws back and forth. Urban renewal ripped out communities and poured in glass, steel and concrete, but some of the replacements are wonderful. The town is better-humored now, more easygoing. That feel of the old hobnobbing with the new is more amiable. Of course the blood and bones of the place never change—the river, the hills, the trees and the rain.



To stay on the cutting edge of Portland's urban farming scene, you'll need to trade in your chicken coop for pygmy goats, according to the latest Willamette Week.
Here are 14 people (including one of my current clients, very cool) and trends to follow in 2010.
(Photo courtesy of Monterey Bay Equestrian Center.)
Umm, if you saw my video post a couple days ago, and drew a certain conclusion, you might want to see today's vid:
For all the gloating about Portland weather and scenery from June through September, there is a flip side:
For a little more on how Portland compares to other U.S. cities for precipitation, read here.