NPR shared an interesting story outlining the dichotomy of why people are continuing to migrate to Portland despite a lack of employment opportunities and racial diversity.
In short, it noted the typical stereotypical responses — outdoor life, food, music, beer, biking — you know, lifestyle stuff.
For jobs? Not so much.
From the NPR transcript:
Oregon economist Christian Kaylor says he can think of only one explanation for the migration into Portland: the quality of life.

Kaylor says wages there are sometimes 20 percent lower than in Seattle or San Francisco. But people keep coming. In fact, Portland's appeal is part of why the city's unemployment rate tends to be about a point higher than the national average.

"In recessions, Portland tends to see population growth, even as we lose jobs," Kaylor says. "So one of the reasons we have that higher unemployment rate is because people do continue to move here even as jobs disappear."
Foodcarts, rock bands, and brewpubs aside, perhaps these recent additions will someday find reasonable employment options and eventually fuel the housing market in years to come. I have worked with several that fit this mold, and I hope their careers can continue to support both their lifestyle and housing choices.
It appears we can take off the "First Time" prefix and and just call it the "Homebuyers Tax Credit." The government's housing stimulus plan continues past its original November 30 deadline and actually grows in scope.
The Senate and House have approved a bill extending the $8,000 tax credit and offering move-up buyers a similar $6,500 benefit. President Obama is expected to sign this quickly, since the bill contains unemployment benefit provisions as well.
Here's the latest:
The tax credit would be $8,000 for first-time home buyers and $6,500 for move-up buyers (from December 1, 2009 to April 30, 2010).
Move-up buyers will be eligible, as long as they have lived in their principal residence at least 5 years.
Contracts through April 30, 2010 will qualify, but closing must occur within 60 days.
The income limits have been raised–$125,000 for single return and $225,000 joint return for both first-time and move-up buyers.
Cost of the home may not exceed $800,000 to be eligible.
Taxpayers will be able to claim the credit on their 2009 income tax return for purchases made in 2010.
Home buyers would not have to repay the credit, as long as the home remains their principal residence for 36 months after the purchase date.
More people will qualify for the plan (high income earners and current homeowners). And the tax credit will sunset just as the peak real estate season is ramping up.
So the question remains, does this expansion move your housing timetable up? Sound off in the comments, please.
Update September 22, 2009: I didn't attend the auction because my client decided not to bid. But Ryan Frank from The Oregonian did a bang-up job of following the action, even though he got thrown out of the bidding room. Be sure to read his write-up. Bottom line, the new average per square foot in the South Waterfront has effectively been reset to $300/sq. ft.
My small post about the auction scheduled for September 21 for the South Waterfront's Atwater condo project attracted a fair amount of traffic, so I thought I would update it. I visited the property a few weeks ago for some first-hand assessment. Buyer traffic through the units was brisk. I don't know if that translates to big participation at the auction or not.
Forty units of various size are slated for the auction. If all 40 were to sell, then the building would basically only be 1/2 sold out. Perhaps the marketing company will put together another auction if this auction is successful.
So, a little Q and A:
How does someone participate in the auction?
You must register and get pre-qualified to participate in Sunday's auction by 7 pm on Friday, September 18. You can visit the condos between 11 am and 7 pm each day through Friday. If you want your own agent representative to guide you through the process, they must accompany you at the first visit to the property and register themselves.
What are the general contract terms?
The sales contract does not offer much in the way of protections for buyers. You cannot use a property inspection as a contingency for purchase. You cannot use a typical financing contingency. In other words, you will likely lose your earnest money deposit if you fail to close the transaction.
All the purchase paperwork and disclosures are available in advance from the marketing company (registration required), so you won't be surprised at the signing table. You must close your purchase on or before October 19, 2009. They are offering a $2,500 incentive to close the transaction before October 5.
What is the auction format?
It is a live auction. Open bid amounts start at about 1/2 of the original list price, with increments controlled by the auctioneer. There is no published, pre-determined order to how the units that will be auctioned. You should likely have a back-up unit in mind in case your first choice is gone. If you like to see how the auction will be operated, you can go to a 'mock auction' at 6 pm on Saturday at the Marriott.
You must bring a cash equivalent (check or money order) for $2,500 to the auction. If you have a winning bid, you will immediately go to a separate room to sign an official contract and deposit 3% of the sale price with Ticor Title as earnest money.
How much are the HOA fees?
The homeowner association fees are equivalent to $0.303 per square foot, or $484.49 per month on a 1,594 sq. ft. 2 bedroom, 2 bathroom unit for example. The HOA fees cover water, sewer, and garbage for utilities, plus management, maintenance of all common areas, insurance, etc.
Is financing available?
If you need a mortgage, you must be pre-qualified through the Atwater's two preferred lenders, Bank of America or MetLife. These lenders are offering $1,500 credit toward your closing costs. You'll have 5 days to complete the loan application process after your winning bid. You can arrange your own financing, but I doubt outside conventional lenders will loan on this project. If you're paying cash you must show proof of funds.
What about the property?
The units are very nice, comparable to the Meriwether and much of what is in the Pearl District–appointed with granite counters, nice appliances, etc. The high-end units (what I saw anyway) were fine, but I felt the Meriwether had better views (at least in the East building). There's very little in the way common area space (i.e. no workout room), but there is a mid-sized community room in the foyer. Some extra storage in the basement may also be available for an extra fee.
What is the parking situation?
Each unit has a deeded, secure parking spot. Two bedroom units get 2 spots.
KOIN recently did a piece on the auction: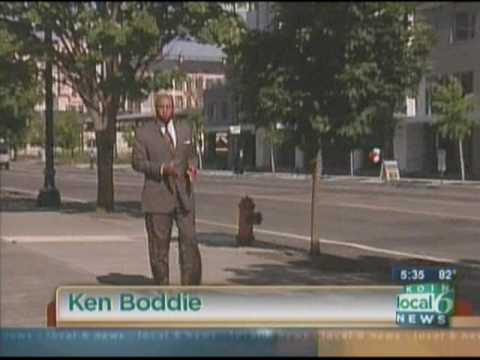 Photo courtesy of Excell Marketing Group.
Balancing last week's gushing by the NY Times, here's a Wall Street Journal expose, "Youth Magnet Cities Hit Midlife Crisis', highlighting the lack of employment in Portland for its new, young residents.
Portland has attracted college-educated, single people between the ages of 25 and 39 at a higher rate than most other cities in the country. Between 1995 and 2000, the city added 268 people in that demographic group for every 1,000 of the same group living there in 1995, according to the Census Bureau. Only four other metropolitan areas had a higher ratio.
Small problem. No jobs.
Some new arrivals are burning through their savings as they hunt for jobs that no longer exist. Some are returning home. Others are settling for low-paying jobs they are overqualified for.
Portland Monthly magazine's annual real estate issue is out, offering tips on buying, renting, selling, remodeling, refinancing — in short, a treatise on how to adapt to a fundamentally volatile housing market.
I've highlighted this issue each year on re:PDX, and it continues to generate interest long after the magazine is off the newsstand, particularly with those interested in moving to the state.
Portland Monthly's coverage also includes Neighborhoods by the Numbers, a breakdown of 95 urban neighborhoods and 25 suburban areas. You'll find stats on real estate market dynamics, crime, schools, population, and other demographics.
On a personal note, the real estate market data this year was provided by the agency I'm affiliated with, MRealty.
Feature Article: Buy, Sell Rent, Keep?
Comparison Article: Neighborhoods by the Numbers
Get your copy today at local newsstands, or visit online. If you are interested in past issues, I have them on-hand. Just drop me a note.
Given the current economic contraction, it's a little weird to hear Metro prophesying a doubling of the local population by 2060, but that's what they're telling us. And it's actually a little higher than what they said last year.
From the Portland Business Journal:
In 50 years, the population in the Portland area will likely be between 3.61 and 4.38 million people. As of the 2000 Census, the region's population was about 1.93 million.

The Metro Council on Thursday released updated forecasts that estimate a range of possible population and employment growth for the seven-county metropolitan region by the years 2030 and 2060. Metro's projections indicate slower rates of growth in the short term due to current economic conditions with sustained population and employment growth over the long term.

In May 2008, Metro projected a 90-percent likelihood that the population of the region would be between 3.46 and 4.25 million in 2060. That forecast also projected the total employment of the region to be between 1.7 and 3.3 million in 2060.
So, the real estate ramifications are clear, but where are all these people going to work?
Today's forecasts also indicate a 90 percent chance that the total number of jobs in the region will be between 1.25 and 1.7 million in 2030, and a 90 percent chance that there will be between 1.65 and 2.42 million jobs in 2060.
Here's the link to Metro's report.
I nearly forgot to post this, but I recently had some camera time with KATU News in Portland, shortly after the dismal January real estate market results were released by RMLS. (Sorry to take you offsite, but KATU does not have embeddable video clips.)
The KATU crew met me down by the Encore condos, ironically right after I had written an offer for some clients that live nearby. Right in the middle of the interview, a couple dogs came running at us from out of the foggy mist, and gave us a good sniff and pawing before being shooed off. A little unnerving to say the least…
Down Cujo, down!
It thrills me to no end to announce the availability of my long-awaited (awaited by me, anyway) real estate search page here at re:PDX. The software developers and designers in my company have been dealing with my persnickity preferences in incorporating a map-based search into the site, but here it is.
Serious shoppers and real estate junkies (you know who you are) alike will like it. Features:
It's Google map-based.
It's neighborhood-defined.
It contains all homes for sale in the Portland MLS that are approved for internet display.
It's free to use and no registration is required to use the map.
If you would like to save homes to a Favorites list for future viewing, you can do so by setting up an account.
You can even request a showing of any listing with just a click.
To see it in action, just click the Home Search in the top menu.
UPDATE: The home search feature discussed in this post is now integrated with re:PDX. Just click the Home Search link in the top menu.
———————————————-
Earlier, I alluded to some changes going into the new year and here's the first&#8212a new, upgraded real estate search feature.
Since re:PDX is getting a makeover, it will be some time before it's integrated into this site, but you can use it now at my independent search site, findportlandhouses.com.
Different from other real estate search sites, this one is based on neighborhood boundaries and integrated with Google Maps so you can search your preferred neighborhoods. You might be interested in just Hawthorne, Ladd's Addition, and Laurelhurst, for example, but not all of inner SE Portland or a particular zipcode.
The search requires no registration, unless you'd like to save properties to a Favorites account or request a showing.
Here's a screen shot of the site (click on the image to go to the site):

Here's a peek at the neighborhood-level detail. Icons show the active home listings. Hovering over the icon shows a thumbnail and price. Clicking on it gives you more detail over in the sidebar.


The properties include all* RMLS listings ranging north of Salem to Vancouver. The Gorge is represented and some beach properties, too.
Be careful. Using it could be addicting.
* "All" means all listings approved by the listing broker for display on the Internet. Some brokers opt out of this.
In the midst of bailouts, presidential debates, bank takeovers, and other fear-inducing events, the Portland housing market continues to evolve. A few news items and notes:
September market activity may surprise some
Year-to-date across the Portland metro area, home sales have been running at about 65% of 2007 levels, month in and month out. September 2008, though, is on pace to come in over 80% percent of September 2007′s total.
Now, before someone starts calling August 'the bottom', the 1,600+ homes sold in September are more like January and February averages, and haven't made much of a dent in the 17,000 active listing inventory still left for sale. Unless we see a significant number of expirations and canceled listings, many home sellers are in for a long winter. I will run preliminary numbers next week when most sales will be logged in RMLS.
A local news crew caught me yesterday for some comments about the local housing market given all the turbulence in the past few days. The summary is pretty thin and some of the advice and conclusions made me wince, but how much in-depth analysis can you squeeze into a 1:45 segment?
(The report is after the brief ad)


Link to KPTV News video.
I don't think they used my best quotes or deepest analysis, but I will stand by the contention that people view Portland as an attractive location to live.
Case-Shiller shows declines of 6.6% in Portland
Standard & Poor's Case-Shiller index for July came out on Tuesday, showing Portland's prices in a 6.6% decline from the same period in 2007. As markets like Boston, Denver, and Minneapolis show signs of recovery, Portland and Seattle are showing some acceleration in the opposite direction, although they still rank as 5th and 8th respectively in the 20-city index. According to RMLS statistics, August median home prices were down 7.3% from the previous year, so expect Case-Shiller to continue to downgrade Portland.
Mortgage insurer finds Portland's price decline risk to be 'minimal'
PMI Group, a private mortgage insurer reports that the risk of significant Portland metro price declines is viewed to be among the nation's lowest. They may be wrong, but for now, it should keep mortgage insurance rates low for buyers with less than 20% equity.
50,000 Subprime and Alt-A ARMs to reset
On Tom Cusack's Oregon Housing Blog, he estimates up that 50,000 subprime and Alt-A loans will reset in the next 12 months on owner-occupied homes in Oregon and Washington. You'd think borrowers would have re-fied by now. Maybe they can't.