Happy Sunday to you. And given the amount of time we spend in our garages on weekends, today seems to be an appropriate day to share this interesting infographic about the history and evolution of the humble garage in the U.S.
Original content by IFA Insurance. Click on the image to enlargen.
Does staging my home really pay off?
If you were selling a car, would you get more money if you washed and waxed it? Probably…
Or reverse this question….
If I tried to sell a dirty car, would I get less money for it? Absolutely!
Here is a home that clearly shows the benefits of staging.
All pictures were taken by professional photographers.
The only difference is the staging.
Prior to staging, this home had 27 showings and no offers.
After staging, there were 24 showings in 10 days, three offers, and sold for full asking price.
Interpretation: Without staging, the marketing was sufficient to attract plenty of buyers to view the home. Yet when actually at the home, all 27 buyers rejected the home purchase. After staging, buyers could focus on the potential in the home, rather than the distractions.
Result: With staging, the seller made the most money possible.
Formal Living Room
Formal Dining Room

Family Room
Master Bedroom
Perhaps you've reconsidered selling your home due to the recent market dynamics. Perhaps you've just decided that staying put is preferable to the anguish and stress of selling, buying and moving.
But perhaps the ol' homestead is getting a little threadbare, or the kidlets are abandoning the nest. Maybe you've found a little bank-owned fixer. Now what?
You need some inspiration.
The Professional Remodelers Organization of Portland may provide just what you need on March 12 and 13, 2011 during their Portland Tour of Remodeled Homes. The tour offers an opportunity to roll through 15 actual remodels, meet the contractors, and get ideas about your own domicile. Tickets are $17.50 and you can spread your time over both Saturday and Sunday on those tickets.
Here, Steve Stolze of SLS Remodel and Construction talks about his redo of a typical '80′s home: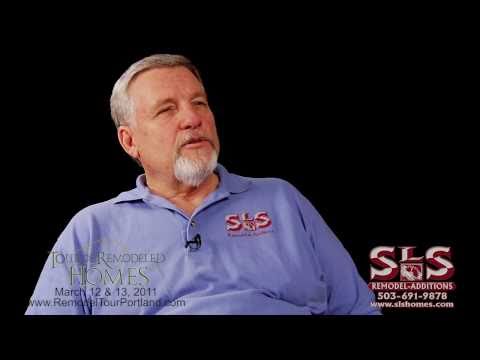 The show is produced by the Homebuilder Association of Metropolitan Portland and tickets can be purchased here.
The year has started with a very slow pace of home sales, meaning more than ever, people are staying put — both by choice and by necessity.
Perhaps the remodeling industry will see some benefit during the housing downturn.
This weekend, the Home Builder's Association of Metropolitan Portland sponsors the Tour of Remodeled Homes –a collection of projects 18 scattered across the metro area. Tickets for the event run $17.50 and can be used both Saturday and Sunday, March 14-15, 2009.
More information at the Tour of Remodeled Homes. Please come back and comment at re:PDX about the tour if you venture out. Thanks!
The Street of Eames modern home tour scheduled for April sold out in less than a day (once again), but you have an opportunity this weekend to view 11 other modern design homes in Portland.
For FREE, no less.
The 11xDesign tour features 11 contemporary design projects by a variety of architects. The tour is self-guided and runs from 10am to 5pm, Saturday February 21. Get details at the 11X Design site.
As usual, Brian Libby has this well covered over at Portland Architecture and on the Dwell Magazine blog.
Highly coveted tickets for the 2009 Street of Eames modern home tour go on sale Monday February 16 at 10am. If past years are any indication, you want to be ready with a twitchy mouse finger because tickets are usually gone in under an hour.
From the organizers' email:
From 10 a.m. to 6 p.m. on Saturday, April 18, ticket holders will tour a collection of seven mid-century and contemporary modern homes that would not otherwise be open to the public.

This annual self-guided tour raises money for after-school enrichment programs serving homeless elementary school students at two public schools in Portland. The event is run by volunteers with all proceeds going directly to the programs.
More information is available at the Street of Eames site. And Brian Libby provides an excellent preview at PortlandArchitecture.com.
Cruising through Craigslist this weekend and ran across these scurvy dogs:
Here's their Craigslist pitch:
Shake your booty. (All Over)

Shake it like it was LA!
Lose it sister. Get rid of it brother.
You don't need that stuff. It's no good.
And someday someone somewhere will find a way to link it to cancer.

PREPARE YOURSELF (<– scare tactic)

By calling the Junk Pirates today!
1-888-47-BOOTY (that's 1-888-472-6689)
Follow Fritz: www.myspace.com/junk_pirates
Now, from a branding perspective, I think this kills. Most cleanup crews have non-descript business names with no hook to remember them by or reason to refer them to anyone.
But you'd probably remember the Junk Pirates. At least I will. Heck, they even have a vanity 800 number.
Note: This is an unsolicited review. I have not used them or referred them to anyone.
Yet.
In a move that might help move some latent bank-owned inventory, the federal government will temporarily lift its 90-day waiting period for resale properties that use FHA-guaranteed mortgages.
Since 2003, properties financed with FHA programs could not be resold within the first 90 days of the loan term–a guard against predatory lending and flips with cursory rehabs. FHA is removing that anti-flip rule for a one-year period. Other conforming loan programs (Fannie Mae and Freddie Mac) never did adopt similar rules.
The problem I see with this move is that many bank-owned (REO) properties aren't in the physical condition that qualify for FHA mortgages. If defaulting borrowers couldn't pay their mortgage, they likely couldn't maintain the home, either. Consequently, many of the REO properties I've seen are distressed.
But FHA financing is back in vogue, and perhaps it will provide incentive for banks to make the necessary repairs to make their holdings financeable under FHA guidelines–growing the market for their growing portfolio of orphaned properties. Rehabbing foreclosed homes could also stabilize overall values of neighborhoods and adjoining properties by minimizing the deep discounts given to all-cash buyers.
Image by BombDog, used under Creative Commons license.
Perhaps it's because my home is going on 20 years old and I'm in the throes of making costly updates (windows, furnace, roof, etc.), but lately I've been making particular notes about the age and condition of homes' costly components when touring with clients.
When viewing a home listing, in addition to the cosmetic aspects of the home, I pay particular attention to items like the furnace, roof, and deck — costly replacement items that may need attention from the new owner in relatively short order.
If you're in the market, you might want to educate yourself on these issues in advance. To help, The National Association of Homebuilders conducted a study in 2006 on the effective life of many housing components. I chose a handful of areas to display here, particularly considering our NW climate and environs:
Appliances:
Gas ranges: 15 years
Dryers and refrigerators: 13 years
Compactors: 6 years
Dishwashers: 9 years
Microwave ovens: 9 years
Decks:
Faucets and Fixtures:
Kitchen sinks (acrylic): 50 years
Faucets: 15 years
Bathroom shower enclosures: 50 years
Shower doors: 20 years
Showerheads & toilets: Lifetime
Whirlpool tubs: 20 to 50 years
Flooring:
All natural wood flooring, and marble, slate and granite: 100 years
Vinyl floors: 50 years
Linoleum: 25 years
Carpet: 8 to 10 years
Heating, Venting and Air Conditioning:
Furnaces: 15 to 20 years
Heat pumps for 16 years
Air conditioning: 10 to 15 years
Tankless water heaters: 20 years
Electric/gas water heater: 10 years
Roofing:
Slate, copper and clay/concrete: 50 years:
Asphalt-shingle roofs: 20 years
Fiber cement shingles: 25 years
Wood shakes: 30 years
Siding and Accessories:
Brick, engineered wood, both natural and manufactured stone and fiber cement: Lifetime
Copper gutters: 50 years
Aluminum gutters: 20 years
Copper downspouts: 100 years+
Aluminum downspouts: 30 years
Windows and Skylights:
Aluminum windows: 15 to 20 years
Wood windows: 30 years
Note that these are functional lifetimes. Kitchens, bathrooms, appliances, paint, etc. have much shorter stylistic lifetimes. Obviously, these guidelines are highly dependent on local weather conditions, proper building and design, material quality and adequate maintenance. I can think of a few other exceptions too, like EIFS and LP siding.
Something to keep your eyes open to when touring homes 10+ years or older. You might want contractors to certify roofs, inspect furnaces, provide replacement costs, and give you additional advice during your home inspection timeframe.
The link is broken on the NAHB website, but I've got the full, detailed report here.
After launching their inaugural, eye-catching print issue recently, Portland's newest home magazine, Portland Spaces has also hit the online space with some real intent.
The Portland Spaces site includes some DIY features, a resource guide (aka advertisers), an interesting historical retrospective of the PDX single-family home, plus not one, but two active blogs:
The Design District and Burnside Blog
I am interested to see how much activity and content will go into the online Spaces in support of the print edition over time.
See more at http://www.portlandspaces.net/.